We have a New Category in the Store - "Drew's Big Box Of Bargains" - Overstocks, end of lines, products being retired will all go in here.
Currently its our Sci Fi Trooper, we could never get the weapon Sprue to Cast - so we're selling off all the dead stock to make room for when we get it re-mastered - the weapon sprues need a little work, but are perfectly useable - and the Bodies are perfect castings (the Caprican Rifle looks really good on them) - as a set, or separately.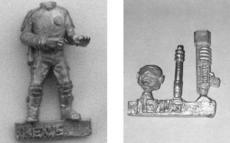 Also in their currently is Dr Makalay our own Magnetic Mutant - as both a Single Casting, or as a Deal.